Vineland
Vineland

U.S. First Edition, February 1, 1990
Author
Thomas Pynchon
Country
United States
Language
English
Genre(s)
Novel
Publisher
Little, Brown
Released
1990
Media type
Print (Hardcover & Paperback)
Pages
385
ISBN
ISBN 0-316-72444-0
Vineland is a 1990 novel by Thomas Pynchon, a postmodern tale of life in the 1980's United States. Its central locale is Vineland, California, a fictional small town in California's Anderson Valley (perhaps based upon Boonville, California). The title Vineland may be a play on the word "Hollywood", or a reference to the first Viking settlement in North America, Vinland. Still others contend that the title refers to Vineland, New Jersey, the hometown of Patti Smith. However, the most obvious explanation is that the title is a reference to the area in which the novel is set, which is near California's grapevine-filled Napa Valley wine country.
Vineland disappointed many critics and readers who waited almost twenty years since Gravity's Rainbow in 1973. In contrast to Pynchon's earlier works, Vineland was seen as overtly political and polemical, as if Pynchon, disgusted with Reaganomics, penned an angry modern adaptation of George Orwell's Nineteen Eighty-Four. On the other hand, one reviewer argues,
...such appraisals are the result of these readers' failure to apprehend the historical depth the novel offers, and their refusal to take seriously the endpoint of the history it relates. There has yet to be a critic who, like the ghost of Walter Rathenau in ''Gravity's Rainbow, is able to "see the whole shape at once," the continuing pattern of executive aggrandizement so carefully interwoven into the exposition of Vineland and which leads up to a moment as apocalyptic as any in recent fiction. To answer Leithauser, Wilde, and Mackey, there is in Vineland something "overarchingly malignant," "some glamorously threatening force," an "awesome glimpse of the sublime and the demonic"; it has simply gone unrecognized.
Others note, however, that the novel is as relentless in its satire of representatives of the counterculture and oppositional movements as it is of government authority and agents. Some readers contend that Vineland does not take itself seriously enough to be leftist literature, although others have drawn parallels with the landscapes and social upheavals of Steinbeck's Grapes of Wrath.
Politics aside, Pynchon's technique is still recognizable: from a cameo of Mucho Maas (from The Crying of Lot 49) to a bizarre episode hinting at Godzilla, Pynchon's "zaniness" pervades the novel. For example, Pynchon laces the book with Star Trek references: he has his characters watch a sitcom named Say, Jim, about a starship all of whose officers "were black except for the Communications Officer, a freckled white redhead named Lieutenant O'Hara." The numerous references to films rigourously include the year of release in a manner unusual for a work of fiction. Several characters are Thanatoids, victims of karmic imbalance and inhabitants of a strange state of being "like death, only different". In addition, the novel is replete with female ninjas, astrologers, marijuana smokers, television addicts, musical interludes (including the theme song of The Smurfs) and, naturally, metaphors drawn from Star Trek.
The Cover
The font for the "Vineland" title is ITC Kabel.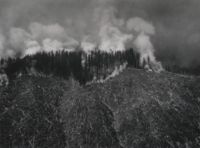 The cover photograph was taken by American photographer
Darius Kinsey
(1869-1945) who moved to Seattle, Washington, from Missouri in 1906 and spent the remainder of his life photographing the logging industry and scenic views of the Pacific Northwest. Charles A. Riley II, in his book
Color Codes: Modern Theories of Color in Philosophy, Painting and Architecture, Literature, Music, and Psychology
, posits a relationship between
Vineland
and the cover photo on its dustjacket, an excerpt of which is
here
.
The cover photograph is entitled Crescent Camp Number One and was taken in Seattle in the 1930s.
References and links
Pynchon, Thomas R. Vineland. (Boston: Little, Brown, 1990).
Rushdie, Salman. "Still Crazy After All Those Years", The New York Times] 14 January 1990.
Geddes, Dan. "Pynchon's Vineland: The War On Drugs and the Coming American Police-State", The Satirist
Gordon, Andrew. "Smoking Dope with Thomas Pynchon: A Sixties Memoir". The Vineland Papers: Critical Takes on Pynchon's Novel, ed. Geoffrey Green, Donald J. Greiner, and Larry McCaffery (Normal, IL: Dalkey Archive Press, 1994): 167-78.
Thoreen, David. "The President's Emergency War Powers And The Erosion Of Civil Liberties In Pynchon's Vineland", Oklahoma City University Law Review 24, No. 3 (1999).
John Diebold and Michael Goodwin: Babies of Wackiness, a "reader's guide to Vineland"
Superiorpapers: Vineland